Following the successful Sgjkkmms container wagon, the Lgs 580 has now arrived!
The wagon:
To suit the high demand on container cars at the end of the 1990s, the Lgs 580 was created by modifiyng several other wagon types. Even if the Lgs 580 is smaller than its competitors, it does not mean its unable to compete with them. Just like the Sgjkkmms, the Lgs 580 can carry two 20-feet containers, or one 40-feet Container.

CarCreator

random load

Rear-end light

Custom sounds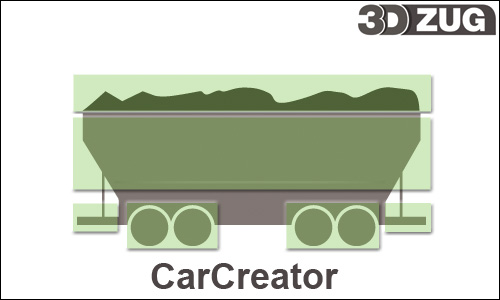 CarCreator: More than 200 variants are available, you may choose the container you want to be visible. You even may create your on repaints. The Community Edition (CE) includes a license, so you can create repaints yourself which can be shared with the community (freeware).
The car is highly detailed with crisp lettering and textures and features excellent sounds. QuickDrive consists are also included, just in case you want to start right off!
Key features:
Highly detailed Lgs 580 Container car
Detailled letering with 100 dynamic numbers
20-feet, 40-feet- Reefer and tank container
More than 200 combinations possible
Winter textures
Container companys can be deactivated individualy
Adjustable CarCreator features (read the manual for more details)
Cars can be used in loaded and unloaded condition
Addititional textures included: high detail and high performance (read the manual for more details)
Container can be used as scenery objects
Optimized version to use as AI-traffic
Repaint license included
1 scenario for the Karlsruhe-Mannheim Route Add-On (requires TS 2016 incl. BR 155, Karlsruhe-Mannheim, European Loco and Asset Pack)
2 scenarios for the Koblenz-Trier Route Add-On (requires TS 2016 incl. BR 155, Koblenz-Trier, BR 182 Taurus (DTG), Ruhr-Sieg Linie)
QuickDrive compatible with several included consists

Download size ca. 117 MB

Downloadable product with installation program
Manual and scenarios in German